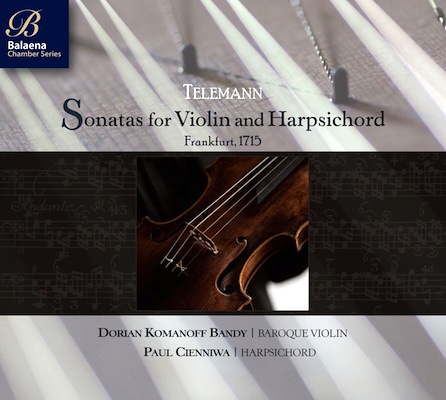 Dorian Komanoff Bandy and Paul Cienniwa:
G.P. Telemann: Frankfurt (1715) Sonatas for Violin and Harpsichord
CD Whaling City Sound Balaena Chamber Series wcs 108
Downloads (24-bit/96kHz stereo AIFF, ALAC, FLAC, and WAV) available from HDTracks.
Streaming available from Tidal. Total time 80:04.
Recorded at WGBH Studios, Boston, Massachusetts, June 16-17 2017. Malachai Bandy, producer; Antonio Oliart, engineer.
Georg Philipp Telemann (1681-1767) was a friend of J.S. Bach's, and Godfather to Bach's son C.P.E.; Telemann also knew Handel. In his own time, Telemann was frequently compared to both composers. That is all the more impressive, given that Telemann, unlike Bach, did not come from a family of musicians. Telemann was another one of those law students or lawyers who gave that career up to write music (that list includes Schumann, Sibelius, Stravinsky, and Tchaikovsky), and therefore, he was largely self-taught.
Telemann was extremely well respected in his own time. His prodigious productivity resulted in a list of works longer than Bach's or Vivaldi's. The 20th-c. music humorist Peter Schickele (stage name "P.D.Q. Bach") made fun of Telemann's great body of work by making the top prize for an (imaginary) classical-radio-station phone-in giveaway "The Complete Works of Telemann, on Convenient 45-rpm Records." I found that to be rather funny, back when I was in college.
For information on this delightful recording and some sound samples, please click on the jump link: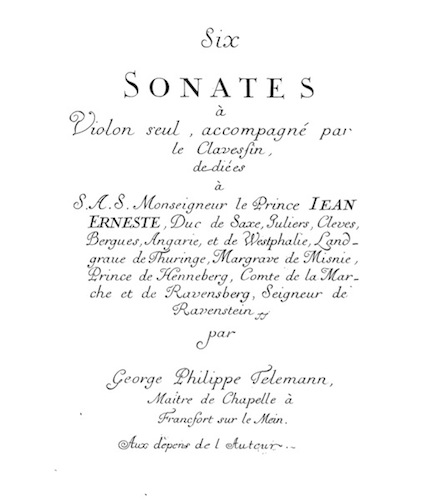 The Age of Recordings (from the late 19th-c. on) has not been very kind to Telemann. Here's a list of great violinists of the mid-20th-c. (by which I mean, 1925 to 1975) who had notable recording careers in the US (birth dates in parentheses):
Kreisler (1875), Zimbalist (1889), Elman (1891), Szigeti (1892), Heifetz (1901), Milstein (1904), Oistrakh (1908), Menuhin (1916), Ricci (1918), Szeryng (1918), Stern (1920), Grumiaux (1921), and Rabin (1936).
Heifetz recorded Clérambault, and Oistrakh and Szigeti recorded Tartini; but none of those three superstars recorded anything by Telemann.
The only violinist on the above list who recorded anything by Telemann (as far as I can tell) is Isaac Stern. In 1989, Stern and colleagues recorded at least one movement from a Trio Sonata in E minor. I did research this; so I can tell you that the number of trio sonatas Telemann wrote in E-minor is rather daunting. The work is apparently TWV 43:e3; it is also known as a Quartet. The quartet's title page states that the music can be played by two flutes with two violins; or, by two celli with two bassoons. Further, the second lower part (violin or bassoon) can be omitted, or it can be played on a harpsichord. So the Stern performance, for flute and violin with cello and lute, mixes the two suggested upper-part instruments, and replaces the second cello with a lute instead of the suggested harpsichord (while keeping the first cello). Which actually could have happened in the early 18th century.
Telemann is not on ArkivMusic's drop-down menu of "Featured Popular Composers." However, Bizet, Copland, and Grieg are. None of those later composers—however worthy—has Telemann's stylistic fluidity or his technical flair. Ascertaining reasons for Telemann's "Second-Class Citizen" status today is murky work. Certainly, in the 19th century there was a critical backlash asserting that Telemann was a composer of quantity, not quality. The irony being, some of those same critics praised works that at that time were believed to be by Bach, but which turned out to have been written by… Telemann.
Perhaps another reason is Telemann's above-mentioned stylistic fluidity. He could write idiomatically in the French, Italian, and German styles, and served as an important transitional figure between the Baroque and Classical styles. In other words, "Hard to pin down." Or, more practically, Telemann's catalog is heavy on vocal and choral works and works for smaller instrumental forces, and lighter on works for larger instrumental forces.
As far as I know, there is nothing in Telemann's catalog that is as catchy and audience-friendly as Bach's evergreen D-minor concerto for two violins. The only Telemann violin concerto I have ever heard performed live was his Violin Concerto in A major (TWV 51:A4), known as "The Frogs." That's because the orchestral writing imitates the sounds of a pond-full of frogs.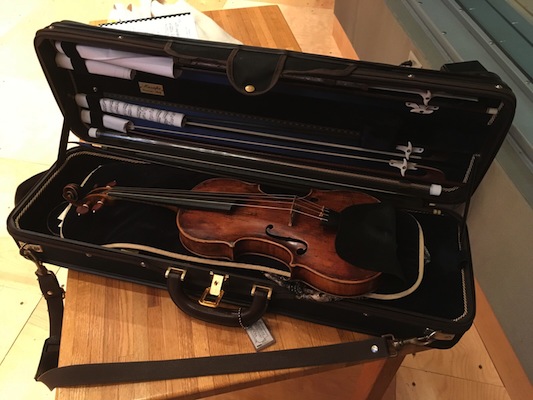 Baroque violin circa 1750, perhaps from Innsbruck.
In 1715, Telemann published a set of six sonatas for violin and harpsichord. Today, when those works are (very rarely) recorded, they are usually recorded with the addition of a cello. In a way, I think that's dragging them back into the genre of the Baroque trio sonata, and away from the emerging Classical sonata forms, first for "piano with violin," and later for "violin with piano."
This new release by Dorian Komanoff Bandy, Baroque violin, and Paul Cienniwa, harpsichord, therefore is "authentic" in its forces (no cello); its complement of instruments (a Baroque violin circa 1750, perhaps from Innsbruck, with modern copies of Baroque bows, and a harpsichord made in 2008 by Kevin Spindler); and its period-correct pitch (Concert "A" is at 415 Hz).
The recording was made at Boston's NPR affiliate station WGBH-FM's studio in native 24-bit 96-kHz PCM, with microphones by Schoeps (CMC6-MK5); Sennheiser (MKH800); and Neumann (KM130). The sound is very well-judged in terms of a natural recording perspective, so that the articulation sounds of both instruments do not obscure the essential musical line. In other words, not distressingly and fatiguingly on top of you—there is some welcome breathing room, some personal space for the players and for the listener.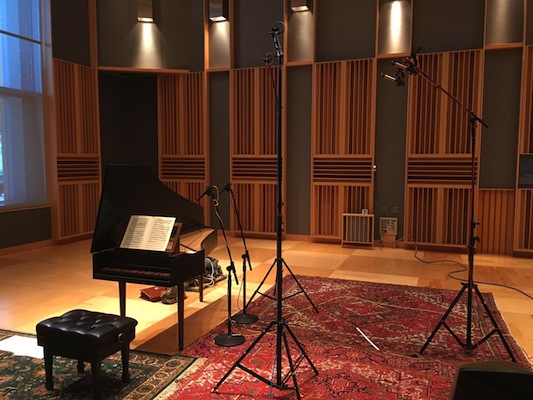 WGBH Studios, Boston.
Both players are confidently at ease in this music. The informative and persuasive liner notes (by the violinist) go into detail on the six sonatas from 1715 (each one distinct in its own way), as well as the world-premiere recording of the Sonata in F-sharp minor, which the liner notes characterize as experimental. The F-sharp minor sonata exists only in manuscript form, and, interestingly, was signed with a pseudonym ("George Melante"), which in a way is a phonetic anagram of "Telemann."
The liner notes also make the point that the six sonatas are more virtuosic in terms of compositional invention than in instrumental technique. That may be the case; but, these works do not lack for technical challenges.
Komanoff Bandy's playing is free-spirited, by turns sprightly or melancholy. He produces a very attractive tone, and his execution is free of the exaggerated dynamic swoops and pitch slides that bedevil some "H.I.P." violin performances. Cienniwa is an ideal sonata partner. His touch is firm but not overbearing, so his sound is never clangy.
I certainly hope that it is not The Kiss of Death for me to state that overall, the word that I find most apt to describe this inventive music and these committed performances is "charming." But "intimate" is a good word too. "Congenial" is also good. I'd wager that this CD (or the hi-res downloads) would be enjoyable as the sole focus of attention, or as accompaniment to other activities, such reading, or entertaining friends.
Those in search of a fresh perspective on a well-known but actually rather neglected composer, or even those who only want a little stress-free musical vacation, should buy the CD or the download, or stream the music from Tidal. Very much recommended!
The sound samples:
Here are samples consisting of the first minute or so of the contrasting slow and fast first and second movements of the first three 1715 sonatas; then, as a special treat, the complete first movement of the F-sharp minor sonata—a world-première recording.
Track 1. Sonata no. 1 in G minor, TWV 41:g1 1. Adagio
Track 2. Sonata no. 1 in G minor, TWV 41:g1 2. Allegro
Track 5. Sonata no. 2 in D major, TWV 41:D1 1. Allemanda: Largo
Track 6. Sonata no. 2 in D major, TWV 41:D1 2. Corrente: Vivace
Track 9. Sonata no. 3 in B minor, TWV 41:h1 1. Cantabile
Track 10. Sonata no. 3 in B minor, TWV 41:h1 2. Allegro assai
Track 25. Sonata in F-sharp minor, TWV 41:fis2 1. Largo
# # #