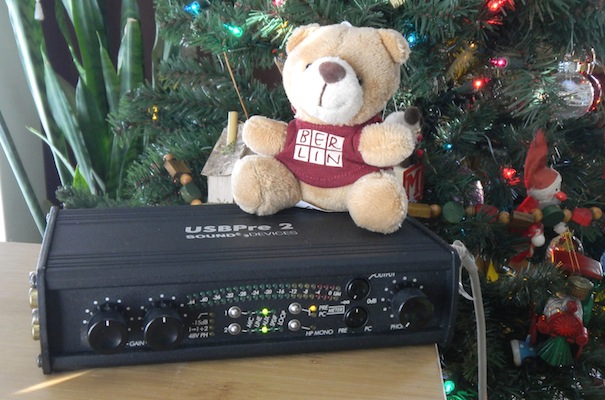 Berlin the Bear celebrates Christmas with some great audio gear! Photo by John Marks
This is the fourth installment in my series about choosing Pareto-Optimal equipment to make archival digital copies of vinyl LP (long-playing) phonograph records. The first part (an overview) is here. Part 2 (Rega's Planar 3 turntable package) is here. Part 3 (Graham Slee's Revelation M phono stage) is here. This installment covers the conversion of the analog signal from the phono stage into a digital-audio data file.
Unfortunately, as far as I have been able to determine, the various inexpensive solutions for making digital transfers of LPs are inadequate for making archival-quality copies. In this regard, I am not referring to "Best Practices." I am only talking about "Non-Inadequate Practices." I cannot recommend all-in-one "USB Turntable" or "USB Phono Stage" solutions for anything other than their convenience for casually ripping an LP to a CD-R. The reasons for this disinclination on my part appear after the jump.