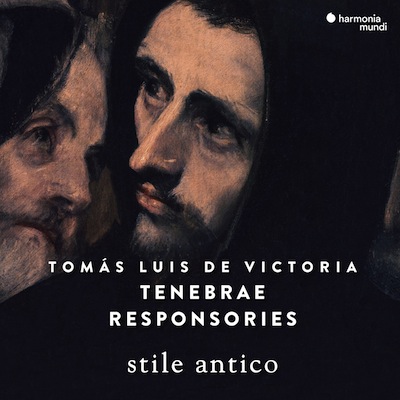 Stile Antico:
Tomás Luis de Victoria, Tenebrae Responsories for Holy Week
CD Harmonia Mundi HMM 902272
Downloads (24-bit/88kHz AIFF, ALAC, FLAC, and WAV stereo) available from HDTracks.
Streaming available from Tidal and Apple Music.
Recorded at All Hallows' Church, Gospel Oak (North London) England, February 13-17, 2017. Robina G. Young, producer; Brad Michel, engineer.
The British early-music group that calls itself "Stile Antico" once again proves that they are, without doubt, one of the most impressive vocal ensembles before the public today. I Imagine that their group name just might be a bit of an insider's joke—stile antico is a musical term used (from the early 1600s on) to characterize the continued creation of new but historically-conscious "old style" music.
The composers of stile antico music declined to embrace the emerging Baroque stylistic trends of increasingly elaborate ornamentation and more complex (and freer) counterpoint. Stile antico composers regarded the works of older composers (especially Palestrina) as ideals that could not be surpassed—a position that was still being put forward (believe it or not) even as late as the 1870s (at least in the realm of sacred music)… .
The group Stile Antico's "Unique Selling Proposition" is that they work without a conductor or music director, in this regard being more like a chamber-music instrumental ensemble than an orchestra. While this might seem a very daunting prospect, I think that with so much of the repertory being four-part scores (two high voices and two low voices), hashing things out should be no more difficult than, say, when a string quartet's members decide among themselves how a movement (such as the slow movement of Beethoven's op. 127) should be played. (Irony alert.)
I was rather agog at Stile Antico's 2006 début SACD Music for Compline when I wrote about it for Stereophile magazine, and they have continued at that high level for more than 10 years. Their articulation, phrasing, and ensemble work are among the best; but what really sets them apart is the lush richness of their vocal sound. Arkivmusic.com has Stile Antico's Music for Compline on offer at $9.99, which I gather is a 10th-anniversary non-SACD CD reissue. That one's a no-brainer. Just buy it. The o.o.p. SACD version is available from third-party sellers on Amazon, at prices ranging from market-correct to delusional. (But I did tell Stereophile's readers to just buy that, more than 10 years ago.)
After the jump: a making-of video of Stile Antico's Tenebrae Responsories, some background and commentary, and a few sound bytes. Continue Reading →