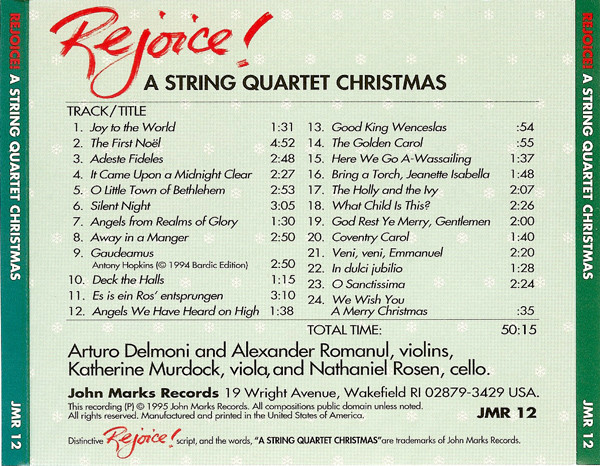 (The copyright date is 1995, despite the release date having been late 1994.)
Last week marked Arturo Delmoni's 70th birthday. We met in 1980 through mutual friends, during the summer music festival at Rhode Island College. At the time, I was both a budding audiophile (the term was not much in use back then) and also, since my junior-high-school days, an audio-video nerd. Years before, an uncle had given me an open-reel tape recorder he was no longer using. I recorded my junior-high-school chorus in lamentable stuff such as, "If We Could Talk to the Animals" from Doctor Doolittle. (That was a 1967 film that Rex Harrison most likely did not have to live very long after, in order to regret muchly. Sigh.)
Customers of my parents' delicatessen-café included the couple who ran the independent record label SQN (or Sine Qua Non). I chatted them up about their possibly releasing a recording to be funded and owned by Arturo Delmoni and licensed to them. The one good thing that SQN did for me (well, over and above giving me an "education" in how the music business really works) was to introduce me to engineer David Hancock.
The SQN folks recommended David Hancock because he had not yet invested in the latest digital-recording technology, and therefore his rates were lower than those of the top guys. David had invested, however, in a spanking-new Studer A80 analog tape machine, set up to use half-inch two-track analog tape running at 30 inches per second. Whew.
Now, class, a "thought experiment."
How many people today would pay over $300 for a sealed-copy LP of Songs My Mother Taught Me, if it had been recorded using early-generation digital technology??? (It is said, that to state some propositions is to refute them.) David Hancock was also a fan of Charles Fisher's C35 Cambridge microphones, which were, in essence, improved RCA model 44 ribbon microphones with an active proximity-effect-compensation circuit. Those were the microphones David had used on his legendary 1967 recording of Donald Johanos and the Dallas Symphony in Rachmaninoff's Symphonic Dances.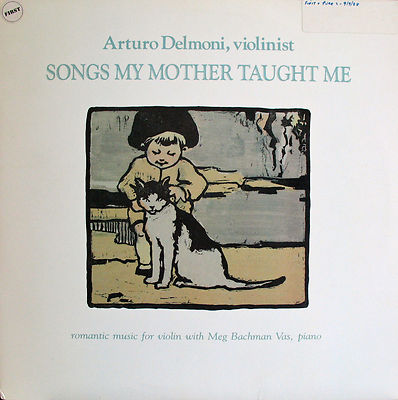 The North Star Records original release of Songs My Mother Taught Me (1986).
After the recording sessions in May 1982 and the editing process, it came time to deliver the master tape. I don't know whether any of the big shots at SQN actually listened to the 15 ips Dolby A copy tape they requested, but word came back that the letter agreement I had in hand had been signed by someone who no longer worked there, and in any event they would not honor it. They of course did offer a cassette-tape-only release at a lower royalty. So, I embarked upon a three-year Odd-yssey, asking labels large and small to give a listen. (Telarc gave it a pass–their loss.)
In the end, North Star, a startup in Providence that had intended to concentrate on singer-songwriter releases, was willing to give it a shot. It sold well for them, and the critical reviews were spectacular. When Digital Audio Compact Discs reached critical mass, North Star was not willing to go that far; so (good luck for us) MFSL (Mobile Fidelity Sound Labs) did take it on. MFSL did very well with it, despite not really getting the proprietary tape-playback EQ right (and you can quote me on that).
Time went on, and Mobile Fidelity, which was doing very very well with 24-kt. gold CD remasters of "album rock" titles, decided to phase out classical and silver CDs. Oh well, time for me to start a record label of my own. Bob Ludwig graciously took me on as a new mastering client, out of respect for David Hancock and his work.
The JMR LP sounds better than the North Star LP, and the JMR silver and gold CDs sound better than the MFSL, because Bob Ludwig used the proper playback EQ. (And because the JMR LP is on 180-gram vinyl from RTI.) The irony being, before the Vinyl Revival, I was lucky to get a dealer to pay $10 for a 180-gram LP that now goes for at least $100 and as high as $250 (sealed, Mint, or EX), all day, every day. (That said, the North Star LP goes for even more money, on the theory that it was first, and therefore must be better. Sigh.)
OK, now I've got a record label. How do I fund new releases? Answer: get some Public Domain Soprano-Alto-Tenor-Bass Christmas-Carol arrangements, and get a put-together string quartet to sight-read them over the course of one three-hour recording session.
My fantastic publicist Antoinette "Toni" Flosi of Chicago got the Arturo Delmoni & Friends quartet a live performance on the NBC Today Show, and the rest was history. But the Tower Records Bankruptcy and the closing of the Borders bookstore chain basically were the beginning of the end for the physical-media music business. I lost my US distribution arrangement, and my two best reseller customers. My friends at Steinway & Sons were starting their own CD label, and they recognized the potential, so they made me a fair offer for my three Christmas string-quartet master tapes and associated intellectual property.
The Steinway & Sons release combines all three volumes of music in one three-CD boxed set, dispenses with the word "Rejoice!" in the title, and has a different look for the cover. It's available here.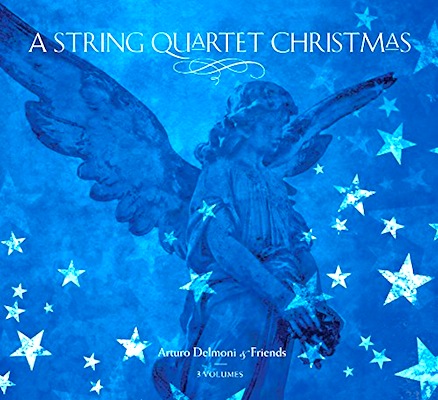 So, when Arturo Delmoni's surprise birthday party drew near, and contributions were asked for the Memory Book, it was not Songs My Mother Taught Me, or his solo-violin recital of works by Ysaÿe, Kreisler, and Bach, nor his duo recital with Nathaniel Rosen Music for a Glass Bead Game that I wanted to commit to remembrance. Here's what I wrote:
A Record Producer Remembers…

Some time around January 1995, I received a handwritten letter from a woman in Ohio. She told me that she was bedridden and almost totally blind (from surgery to arrest the spread of brain cancer). She said that she was receiving disability payments and living in a trailer. She also confided that, by Thanksgiving 1994, she had pretty much given up hope.

She went on to write that, the Sunday morning after Thanksgiving, while her husband was watching the NBC Today Show, her attention was suddenly drawn to the sound of a string quartet playing Christmas carols. Upon hearing a host say that the performance was of music from a new Christmas CD, she asked her husband to go out immediately to buy that recording for her.

It took her husband three tries. However, at the third store he visited, he bought one of the last copies that store had left in stock. He took that CD home to his wife. She then listened to Arturo Delmoni & Friends' Rejoice! A String Quartet Christmas, Volume One, over and over. My address was on the CD's tray card. So she wrote me a letter, to tell me what a difference that music had made in her life… .

I began making sound recordings in 1967. The first professional project I worked on that saw commercial release was Songs My Mother Taught Me, which was recorded in 1982. My JMR releases racked up extraordinary reviews, starred reviews, "recording of special merit" and "recording of the month" designations, and even some honorable mentions for a few major awards. However, the only "review" that ever made me cry came from a woman who was living in a trailer in Ohio. I am sure that she spoke for the tens of thousands of people whose lives have been enriched by listening to Arturo Delmoni's playing.

Most "average" people know very little about music history, music theory, or violin technique. Nonetheless, average people do crave beauty in their lives; and most of them recognize it when they encounter it.

Happy Birthday, Arturo. You have brought beauty into countless lives.

John Marks

March 7, A.D. 2018
# # #