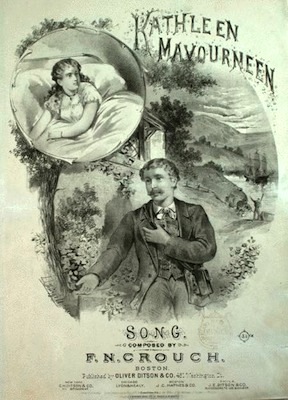 Despite my Jewish surname, I had such a provincial, parochial, cloistered Irish-immigrant upbringing that when my mother's aunts did not want the tykes to know what they were talking about, they spoke Gaelic.
Even better: As a precocious reader of the newspapers, I thought that I had figured out that Black Nationalist leader Malcolm X was, in reality, Pope Malcolm the Tenth.
Hey! I was a middle child! They never explained anything to me.
John XXIII, Malcolm X—they both were religious leaders who had Roman numerals instead of last names… .
Anyway, the sad Irish ballad that breaks the treacle meter (despite having been composed by an Englishman), is "Kathleen, My Darling." In Gaelic, "Kathleen mo mhuirnín," which Anglicizes to "Kathleen Mavourneen." So, "Mavourneen" is not a family name (last name), but rather a term of endearment. I had always assumed it was a folk song, silly me. However, a quick look at the sheet music indicates otherwise; the melody takes slight turns here and there that are not really "folk-ish." Actually, more like early-19th-c. German art music. Imitative of Irish or Scottish folk music, but still German art music. (FWIW & YMMV.)
Continue Reading →