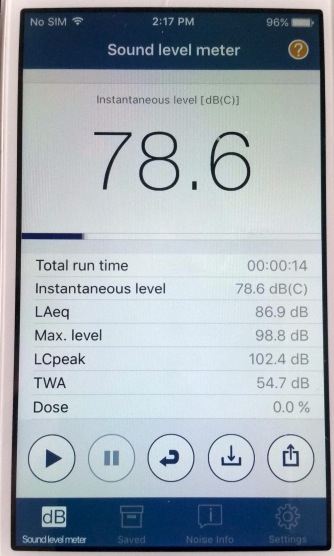 This one will be short and sweet.
The National Institute of Occupational Safety and Health (NIOSH) hearing-loss team evaluated 192 sound-measurement applications for the iOS and Android smartphone platforms, to examine their accuracy and user-friendliness in comparison to standalone, professional-quality sound-measurement instruments.
Of the 192 tested applications, only four (all for the iOS platform) met NIOSH's selection criteria for functionality, features, and calibration capability. NIOSH hearing-loss researchers collaborated with one of the iOS developers whose applications met their criteria to develop an occupationally-centric sound-measurement iPhone app, to be distributed at no cost to the occupational safety-and-health community, as well as to the general public.
So there you have it. The app is only for the iPhone, for reasons of reliability of microphone-equalization compensation. And all it does is measure and log SPL; it has no spectral analysis or RTA functions. I have found it convenient and intuitive to use. The NIOSH SPL Meter app can be downloaded at no charge here. Please be sure to download and study the user guide.
# # #