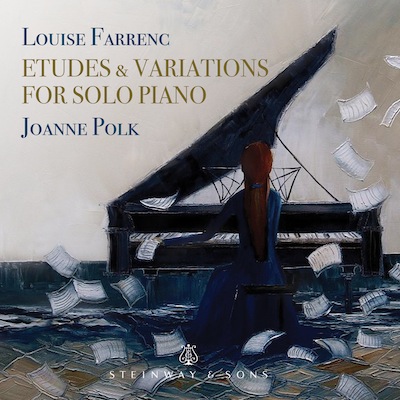 Joanne Polk: Louise Farrenc: Etudes & Variations for Solo Piano
Steinway & Sons CD (STNS 30133) and MP3 downloads available from Amazon
Hi-Res downloads (24-bit/96kHz stereo AIFF, ALAC, FLAC, and WAV) available from HDTracks
Streaming available from Tidal (and others)
Release date: February 7, 2020
Recorded May 15-17, 2019, at State University of New York Purchase College Performing Arts Center Recital Hall. Producer and recording engineer: Steven Epstein. Total time 70 min. 05 sec.
Here's another winner of a recording from Steinway and Sons. As we have learned to expect, the recorded sound is superb.
Louise Farrenc (1804-1875), especially for someone who today merits not even the proverbial asterisk in most music guidebooks, had an amazing career. Judging from this release, Farrenc's music is firmly in the mid-19th-century Romantic virtuoso-piano tradition of Liszt and Chopin, even to the extent of including crowd-pleasing paraphrases of (or, variations upon) opera themes or arias by Bellini (Norma) and Meyerbeer (Les Huguenots).
All of which pianist Joanne Polk presents with facility, fluidity, dispatch, and élan. To get a French word in there. (And also, with joie de vivre.) The Les Huguenots piece is a corker: Imagine if Franz Liszt had gone to town on Martin Luther's "A Mighty Fortress Is Our God." (Oops; perhaps Liszt actually did that. Dunno. Long ago, I decided that FL was, for the most part, not my cup of tea; so I might have a bit of a blind spot there.)
Ferranc studied theory and composition with Anton Reicha, one of Berlioz' teachers. She became the first female professor of piano the Paris Conservatory in 1842. Her Thirty Etudes were adopted as required repertory for piano students there in 1845. Her published compositional output included chamber music as well as three symphonies, all of which were performed.
Therefore, one might feel the need to ask why her music has spent so much time languishing in obscurity.
Musings, ponderings, and sound samples, after the jump. Continue Reading →