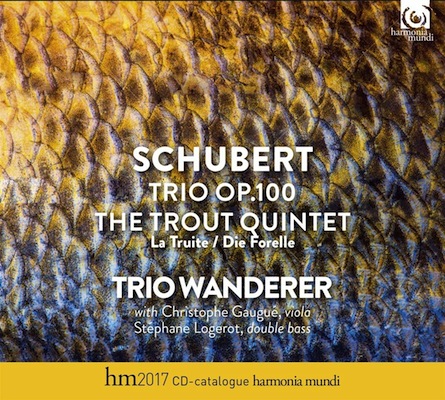 Trio Wanderer:
Franz Schubert, Trio, op. 100, D. 929; "Trout" Quintet, op. 114, D. 667
(Vincent Coq, piano; Jean-Marc Phillips-Varjabédian, violin; and Raphael Pidoux, cello.
With Cristophe Gaugué, viola and Stéphane Logerot, double bass in op. 114)
CD Harmonia Mundi HMX 2908748
Streaming of these performances from the original CD releases is available from Tidal.
Trio op. 100 recorded at The Arsenal, Metz, July, 2000; quintet recorded at IRCAM Paris, June 2002. Jean-Martial Golaz, producer and engineer.
Poor Alex North. Stanley Kubrick hired him to compose a score for 2001: A Space Odyssey. However, when it came time to give the movie its première, to his embarrassed chagrin (he actually was sitting in the audience) North discovered that Kubrick had decided to ditch North's score and stick with his own cut-and-pasted "guide" score.
Kubrick had assembled his "guide" score from a wildly disparate selection of pieces or movements—from Ligeti to Richard Strauss to Johann Strauss II to Khachaturian, and then back to Ligeti. So North, at the time a rather successful film composer whose credits included A Streetcar Named Desire, The Misfits, and Spartacus, was left holding the bag in public, at least in terms of professional reputation (and almost doubtless in various financial senses). Reportedly, Kubrick was so difficult for North to work with that North supervised the recording sessions for his score while lying in a hospital bed brought in for the purpose, because of stress-induced muscle spasms in his back.
I don't think the same thing could have happened with Kubrick's under-rated Thackeray adaptation Barry Lyndon. After the surprising success of 2001: A Space Odyssey's soundtrack LP, I think Kubrick always would again decide to pick his own music—and brook no opposition. And because Barry Lyndon is a costume drama set in the mid-18th century, it is likely Kubrick did not get any pushback from studio executives about using classical (and some folk) music. For Barry Lyndon, Kubrick chose music from Irish traditional-music greats The Chieftans; and from Schubert, Bach, Handel, Mozart, Frederick the Great, Vivaldi, and Paisiello.
As I have written before, I think that the climactic third and final duel scene in Barry Lyndon inspired Ridley Scott's penultimate scene ("Tears in Rain") in the original Blade Runner film. Not incidentally, the final duel in the film Barry Lyndon was entirely Kubrick's own invention; it does not appear in Thackeray's novel.
A Trio Wanderer Schubert Trio op. 100 slow-movement live performance video, and more commentary, after the jump. Continue Reading →