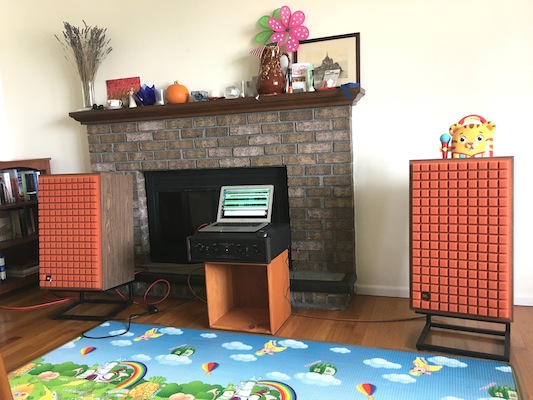 Photo by John Marks
JBL's L100 Classic loudspeaker has a United States MSRP of $4000/pr. (stands not included).
However, if you want to make them sound like the proverbial "a million bucks," here's how to do it:
(1) Connect a pair of JBL L100 Classics to your amplifier.
(2) Subscribe to the Qobuz streaming service (they have a risk-free 30-day trial offer). Feed that signal to your Digital to Analog Converter.
(3) Dial up the 24-bit hi-res version of Joel Fredericksen & Ensemble Phoenix's astonishing feat of creativity and musicianship, the Nick Drake tribute album Requiem for a Pink Moon.
Wow. The first 60 seconds of Track 1 should convince you. The L100s sound like a million bucks. I unhesitatingly recommend audition of the L100 Classic to anyone shopping for loudspeakers in their price tier.
However, my take on the reality (of all such situations) is that every loudspeaker ever designed incorporates tradeoffs. To get this, you have to give up that. Even if the only thing you are giving up on is affordabilty.
The L100 Classic is remarkably affordable, considering its dynamics and its bass performance. If I were still writing for Stereophile magazine, I'd put it in for the coveted "$$$" high-value indication in the Recommended Components List.
But when you design a loudspeaker that has perhaps 80% of the bass and dynamics of loudspeakers costing four or five times as much (or even more; I am talking about loudspeakers in the $15,000 to $28,000 range), but at 20% of the cost of the more expensive loudspeakers, there are, of course, going to be tradeoffs and compromises. That's my take on the reality.
More on Pink Moon, more on the social and cultural context of and the impact of the original L100, and more comments on the sound of the new one, after the jump. Continue Reading →