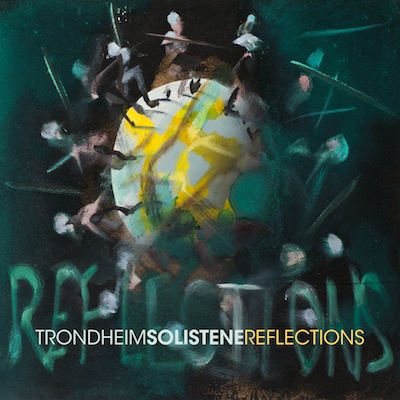 Trondheim Solistene: Reflections
(Music of Britten, Vaughan Williams, and Stravinsky)
SACD/CD +Blu-ray 2-disc set, 2L 125
CDQ; high-resolution stereo including MQA and DSD; and surround-sound downloads available from www.2L.no
Streaming available from various services linked to here.
Recorded June and August 2015, Selbu Church, Norway. Recording producer and balance engineer Morten Lindberg; recording technician Beatrice Johannessen.
Certain pieces of music just catch the ear. Some of those pieces even enter into the collective repository of culture—they become part of the sonic landscape (or the musical memories) of nearly everybody's life.
A prime candidate for the title of "The Most Well-Known Piece of 'Classical' Music That Was Not Composed by Vivaldi, Beethoven, or Gershwin" is Samuel Barber's Adagio, in its string-orchestra version. Barber's Adagio for Strings combines striving with yearning (and grief with resignation) in a completely arresting and inescapably memorable way.
Most music lovers don't realize that the version they know so well is a transcription—that the "Adagio" of movie and pop-culture renown started out life as the slow movement of Barber's Op. 11 string quartet.
The point of this blog entry then, is to tell as many people as possible that if you love Barber's Adagio, you will love Ralph Vaughan Williams' Fantasia on a Theme by Thomas Tallis. The Tallis Fantasia has the same sweeping grandeur and emotional intensity as Barber's Adagio, but I think it is even more rewarding to engage with over repeated hearings.
More background, a making-of video, and sound bytes, after the jump. Continue Reading →