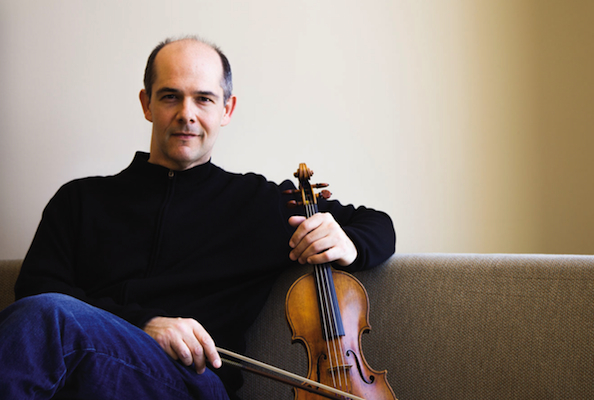 Over the course of time I have owned recordings of Brahms' violin concerto by at least 14 different violinists. For a few of those violinists, I obtained recordings of more than one performance. And for one performance, David Oistrakh's 1969 away game with George Szell and the Cleveland Orchestra, I collected multiple formats (LP, CD, and SACD), including at least half a dozen different LP pressings ultimately (and however multifariously) derived from the same original master tape. (OK, call me a bit barmy.)
The violinists whose Brahms concerto performances I purchased and kept (rather than passed along or donated) ranged from Kreisler and Menuhin and Heifetz and Kremer to… Uto Ughi. To say the least, Cavalier Uto's career in the US has not been, um, huge. From the violinists whose names were not household, my favorite recording was by Hermann Krebbers. Krebbers, who was perhaps as little-known in the US as Ughi, recorded the Brahms concerto with Bernard Haitink and the Royal Concertgebouw Orchestra in 1973.
Please click on the jump link to learn the relevance of all that to Alexander Kerr's truly wonderful Barber concerto performance with the Rhode Island Philharmonic, as well as an embedded audio-only YouTube of Kerr's Decca recording of a charming Shostakovich film-score number.
One of the things that I think sets apart the Hermann Krebbers Brahms recording from most of the others is that there is a pervasive sense of musical collegiality, as opposed to competitiveness. The conductor and the orchestra are careful to leave room—in terms of both dynamics and phrasing—so that the soloist can be heard making musical points (such as the little three-note gesture at measures 215-216).

The corollary being that Krebbers does not play as though he is trying to impress with his virtuosity, but rather put across a work that is as musically demanding as it is technically demanding. (My personal take on the demands this violin concerto makes on the soloist's technique is that Brahms was not a violinist, and so he imagined the solo part—especially the first movement—as piano music. He might have even composed while sitting at the keyboard. Indeed, Brahms' violin concerto can be played convincingly as a piano concerto; and there even exists a recording of that.)
I am sure a major factor in the collegial result that is Krebber's Brahms concerto was that at the time, Krebbers was the concertmaster of the Concertgebouw orchestra. So, he was not only a Dutch soloist playing with the top Dutch orchestra; he was a member of the home team playing in a home game. So to speak.
Alexander Kerr is I fear not much better-known in the US today then were Uto Ughi or Hermann Krebbers in their days; I had not heard of him before his concert with the RIPO was announced. But he turned in as fine a Barber Violin Concerto performance as I have ever heard live, with gorgeous tone, sensitive phrasing, and vibrant expression of the changing moods of Barber's score, which is rather neo-Romantic for the first two movements yet more modern in somewhat of the manner of Prokofiev in the last movement. Kerr's tone was particularly luscious in the lower register down low on the G string in the meltingly lovely second movement. The third movement was dispatched with panache, and the crowd went rather wild.
Kerr's performance was a rather pointed object lesson in support of my contention that the star-making machinery of the classical music business dis-serves music lovers. (A point I made most recently here.) So, credit is due to Maestro Larry Rachleff and the Rhode Island Philharmonic for taking what might have been perceived by some as a gamble rather than a safe bet. And yes, collegiality and mutual respect and appreciation were very much in evidence.
Now, to drop the other shoe… Before moving back to the US to assume the endowed Linda and Jack Gill Chair in Music as Professor of Violin at the Indiana University Jacobs School of Music, Alexander Kerr was one of Hermann Krebber's successors as Concertmaster of Royal Concertgebouw Orchestra. How about that?
On his personal website, Kerr says:
The simple fact is, I love playing the violin. I love sound, I love phrasing
a melodic line and I love communicating with an audience.
I love even the most mundane aspects of practicing!
So that all of you can hear what I mean about Alex Kerr's tone and phrasing, here's the Andante from Shostakovich's Op. 33 film score for The Counterplan. Alexander Kerr (violin); Riccardo Chailly conducting the Royal Concertgebouw Orchestra. From the CD Shostakovich: The Film Album (Decca).
The Chailly/Concertgebouw Shostakovich film-score CD is out of print. While it is available as a just-in-time replicated ArkivCD, that option actually costs more than new-old-stock CDs from third-party sellers on Amazon. (The same holds true, btw, for the Hermann Krebbers Brahms concerto recording: Out of print, but cheaper to buy new-old-stock than just-in-time.)
# # #