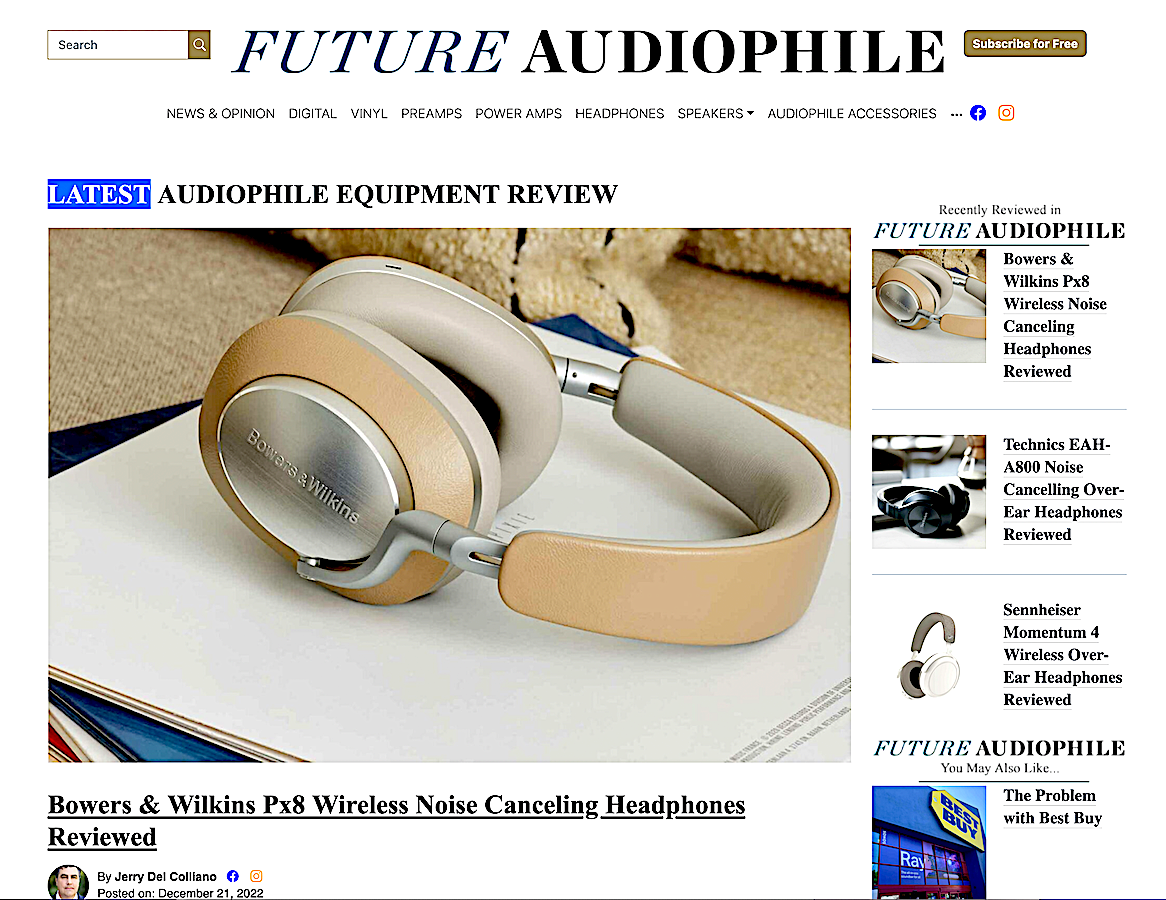 Jerry del Colliano started out as a music student, studying music and Music Business courses in tandem. Then, in the 1990s, he was hired by Christopher Hansen Ltd., the legendary Los Angeles high-end audio dealer. In a twinkling, Jerry's passion for music catapulted him into the upper echelons of audio retailing, being a standout seller of Wilson Audio Specialties loudspeakers. Del Colliano later worked for (the man; the myth; the legend!) Mark Levinson, at Cello Music and Film, also in Los Angeles.
He later went into media and web journalism, publishing AudioRevolution.com, HomeTheaterReview.com, and AudiophileReview.com. More recently, he has launched a new webzine targeting younger music lovers and the audiophile-curious.
The "Unique Selling Propositions" of Future Audiophile are that audiophile "terms of art" (or, if you prefer, jargon) are usually linked to definitions or explainers; and that there is a standard template that all equipment reviewers must follow.
The Future Audiophile review template is so Socratic in method that it gives me flashbacks to law school… but it serves the purpose of reining in authorial flights of fancy (or, recountings of free trips to Sardinia for molto gelato gratuito–ahem).
Examples:
What Makes the Parasound Halo P 6 So Special?
Why Should You Care About the Parasound Halo P 6 ?
Some Things You Might Not Like About the Parasound Halo P 6
Listening to the Parasound Halo P 6 Preamplifier…
Does the Parasound Halo P 6 Have Any Resale Value?
Who Is the Competition for the Parasound Halo P 6?
Final Thoughts on the Parasound Halo P 6 Preamplifier
… you get the idea.
In an email, del Colliano told me that he is "aiming to reach younger and more diverse fans who are looking more for the lifestyle benefits of listening to music, as opposed to some of the more voodoo-inspired black magic that the hobby sometimes flirts with." He also told me that Future Audiophile has "reviewers who have over 40 years of audiophile experience, as well as audiophile reviewers who just turned 40 years old."
So, I wish them much success.
Note, I do not plan to write for Future Audiophile, in that I have been neglecting my own blog, and I have a hugely important recording project in the works.
# # #