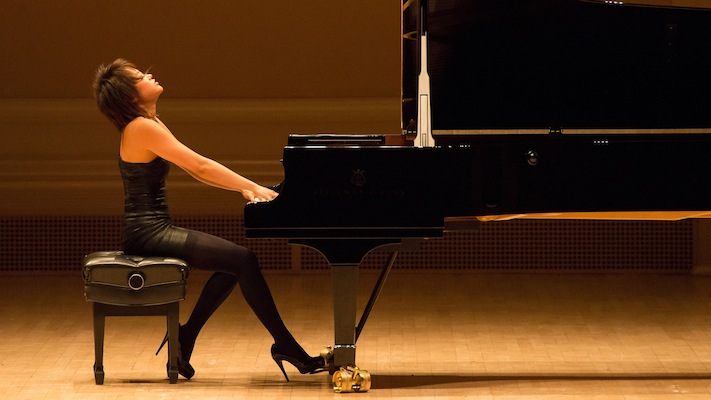 Yuja Wang, courtesy of Medici TV
This is a first—I can't ever remember reading an article in The Economist that brought tears to my eyes… . The article in question is, to use academic terminology, a "reception history" of the piano in Chinese culture from the mid-19th century to the present. Here's the vignette from China's 1966-1976 "Cultural Revolution" that brought out my handkerchief:
Lu Hong'en, the conductor of the Shanghai Symphony, was thrown into a cell. He continued to hum Beethoven there. After he tore up a copy of Mao's "Little Red Book," he was sentenced to death. Lu told a fellow prisoner: "If you get out of here alive, would you do two things? Find my son, and visit Austria, the home of music. Go to Beethoven's tomb and lay a bouquet of flowers. Tell him that his Chinese disciple was humming the Missa Solemnis as he went to his execution." Lu was shot within days. His cellmate reached the Viennese grave three decades later.
You will have to read the rest of the article for yourself, here (you probably will have to register to read five free articles a month). I consider this article to be required reading for cultural literacy in classical music in today's world. The author or authors point out that China is not only turning out star performers (such as Yuja Wang, pictured above); the creation in China of music for the piano has reached critical mass.
The one caveat or clarification I want to offer is that the article states, without elaboration, that the state-run piano company Pearl River (the world's largest producer) "builds for Steinway." That statement is, in my opinion, accurate; but also, potentially very misleading. Pearl River does not make Steinway pianos, or even parts or components for Steinway pianos.
What is going on here is that the Steinway company wants its dealers also to be able to offer pianos that are more affordable. Pianos with, if perhaps not Steinway's imprimatur, at least their nihil obstat. Those brands are the "Boston" and "Essex" pianos. The Essex pianos are "designed by Steinway" and sold by Steinway, but manufactured in China by Pearl River.
The linked-to article also includes an embedded playlist of relevant music and performances, which in and of itself is a reason to click through.
# # #