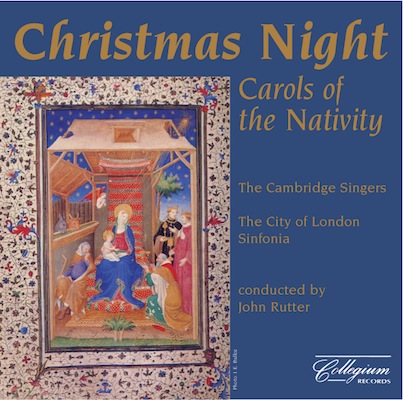 Christmas Night – Carols Of The Nativity
The Cambridge Singers and the City of London Sinfonia,
conducted by John Rutter.
Collegium CD 106 or download
(Recorded January 1987 by the BBC Transcription Unit in the Great Hall of University College School, London. Jillian White, producer; Campbell Hughes, engineer.)
A few years back, my friends at Steinway & Sons asked me to write about a favorite Christmas album for their music and culture magazine Listen.
Here's what I wrote then, and I still feel the same way:
I received this recording as a Christmas present from violinist Arturo Delmoni. It quickly became an all-time family favorite, not only for its world-class singing and vocal ensemble (a young Mark Padmore is in the tenor section) but most of all for its consistently tranquil and gently enveloping sound-world—just like a lullaby, except more varied and musically interesting. (Arturo Delmoni, of course, knows something about Christmas music, in that he led the string quartet in the three Rejoice! A String-Quartet Christmas projects.)
More comments, and sound samples, after the jump.
Christmas Night includes 22 carols that range from the familiar-but-not-done-to-death, to premières of three John Rutter originals. As you would expect, neither Frosty nor Rudolph put in appearances. But, every bit as importantly, there's no Hallelujah Chorus or anything like it, either.
Sound samples:
"In dulci jubilo"
"Adam Lay Ybounden"
"All My Heart This Night Rejoices"
This is smaller-scale music appropriate to the birth of a child in a stable; there is no bombast or triumphalism. The singing has both finely honed dynamic nuances, and, for the lack of a better term, a gentle swing that is apparent from the opening track, "In dulci jubilo."
Excellent recorded sound; full texts and informative notes. Highest recommendation.
# # #