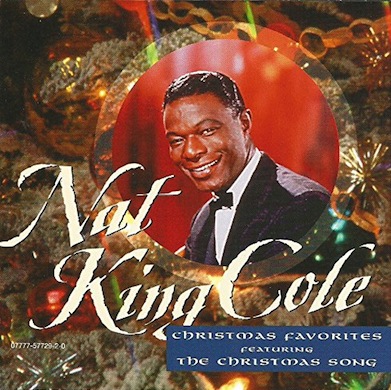 Velvet-voiced pop and jazz tenor Mel Tormé (1925-1999) and songwriter Bob Wells wrote "The Christmas Song" in less than an hour, one sweltering day during the summer of 1945. Tormé wrote the music, and collaborated on the lyrics. (That Tormé's parents were Jewish immigrants from Russia did not stop Tormé from writing what is generally regarded as the most popular and beloved English-language Christmas song of the pop-music era.) Tormé had been a child-prodigy singer and drummer; he was also a composer and arranger.
Though revered as an interpreter of Great American Songbook songs, Tormé's musical worldview included deep respect for classical composers Frederick Delius and Percy Grainger (talk about strange musical bedfellows). Rock and roll, he liked not so much. Tormé's essential musical conservatism endeared him to Playboy magazine founder Hugh Hefner. (And if anyone out there needs a Media Studies, American Studies, or Musicology research topic, I nominate Hugh Hefner's role in keeping jazz on life support in the US during the ascendancy of rock music.)
Nat King Cole sound samples (some not so obvious) and more pensiveness, after the jump.
Tormé and Wells were very fortunate in having an interpreter as gifted as Nathaniel Adams Coles. (I suppose the stage name that riffs off the nursery rhyme "Old King Cole" was semi-inevitable.) Cole recorded "The Christmas Song" four times; two direct-cut lacquers in 1946 (the first, not issued until 1989, with his trio; the second with added harp and a string section); and on magnetic tape in 1953, and in 1961 (in stereo). The 1961 recording is usually regarded as the definitive version.
The recommended CD above (EMI-Capitol Special Markets 07777-57729-2-0, 1992) is out of print, but (1) it can be found on the used market for peanuts, and (2) it does not have filler material such as unreleased songs (or "duets" with his daughter). If you have vague childhood memories of the 1963 Christmas LP, that is the one to get. There is a recent (2009) re-re-mastered, expanded and repackaged version; from Amazon, it costs all of seven bucks; and, quel surprise, you get a free MP3 version (subject to terms and conditions) in the deal. (The 2009 reissue is up on Tidal's streaming service.)
Before his death from lung cancer at age 45, Cole had resolved to go on television to urge people to stop smoking.
Nat King Cole's personal warmth and authenticity (as well as his undeniable talent and work ethic) led to his being among the first African Americans to host a variety show on television (1956-1957). Praise and honor then to the companies (such as Rheingold Beer) who signed on as regional sponsors. However, the show failed for lack of national sponsors. No automobile or national soft-drink or other mega-companies could be persuaded, leading Cole to quip, "Madison Avenue is afraid of the dark."
Here are the sound samples:
"O Tannenbaum":
"O Little Town of Bethlehem":
"The Christmas Song":
And a Merry Christmas to all!
# # #