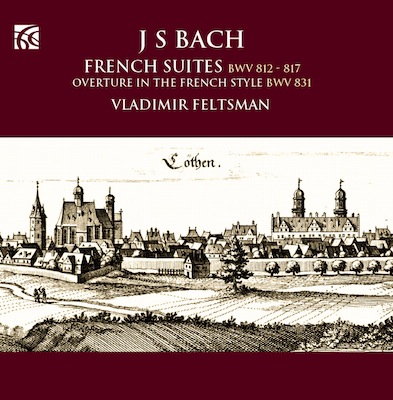 Vladimir Feltsman: J. S. Bach, The French Suites BWV 812-817; Overture in the French Style BWV 831.
Nimbus 2-CD set NI 6314
(No high-resolution download available, apparently.)
This wonderful 2-CD set will make a great gift for a friend who does not listen to a lot of classical music. That's largely because the music is as accessible as it is beautiful. And while these recordings could serve as background music for other activities, they will also reward close attention during repeated hearings.
Vladimir Feltsman was born in the Soviet Union in 1952. He made his début with the Moscow Philharmonic at age 11. (Interestingly enough, his father Oscar was a composer of popular songs and musical comedies.) Unhappy with political interference in the arts, in 1979 Feltsman applied for an exit visa, the result being eight years of virtual artistic non-person-hood.
Arriving in the US in 1987, he was widely feted, starting at the White House. Today, Feltsman might be verging perilously close to "Elder Statesman" status, except that his playing exhibits youthful vitality and genuine enthusiasm, all without a trace of self-importance.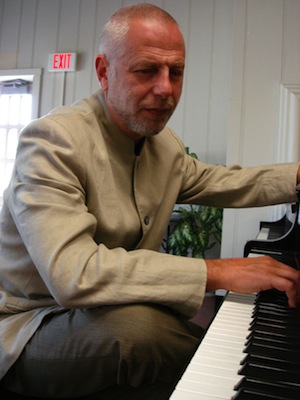 Feltsman's recently-released Nimbus recordings of J. S. Bach's French Suites continues his traversal of Bach's works for clavier. (All on Nimbus: the Goldberg Variations, the Well-Tempered Clavier, the Concerti, the Art of the Fugue, the English Suites, and the Six Partitas.)
Judging from the French Suites (and the BWV 831 Overture in the French Style), Feltsman's approach to Bach is very personal, characterized by pensive delicacy as well as dance-like exuberance. Yes, Feltsman was educated in the Soviet Union, and if one needs to paste reductionistic labels on artists (rather than actually listening to them) one might expect that his early training might predispose him to treat Bach as an Early Romantic composer on the order of Schubert or Chopin.
That said, there is some reminder of "old school" Baroque-music-on-the-piano playing heard here—the kind of playing the precision, clarity, and speed of Glenn Gould's 1955 Goldberg Variations once seemed to have put paid to. But balancing that is the undeniable fact that Feltsman has performed all of the Mozart's piano sonatas on a replica of a Walter fortepiano, as well as Beethoven's Emperor Concerto and Mozart's Concerto K595, No. 27. These interpretations are completely and deeply thought out.
The result is playing with plasticity of phrase and beauty of tone, combined with ornaments that at times can be almost whimsical. In particular, I found the pace and especially the sonorities of the slow movements to be timeless, as in time standing still. This is Bach (admittedly, Bach on a smaller scale and in the galant style) using many of the resources of a modern grand piano, with no apologies needed. After all, beauty is its own justification.
This release makes me want to hear all of Feltsman's Bach recordings on Nimbus (the set would make a great Christmas or "holiday" gift for a piano-music lover). As one would expect from Nimbus, the sound is very good.
Here are some sound samples:
French Suite No. 5 in G Major, BWV 816;
I. Allemande (first repeat)
French Suite No. 5 in G Major, BWV 816;
II. Courante (from beginning)
French Suite No. 5 in G Major, BWV 816;
III. Sarabande (first repeat)
And because Feltsman's slow movements are so luscious, here are two more excerpts:
French Suite No. 6 in E Major, BWV 817;
III. Sarabande (from beginning)
Overture (Partita) in the French Style in B Minor, BWV 831;
V. Sarabande (from right before first repeat)
# # #