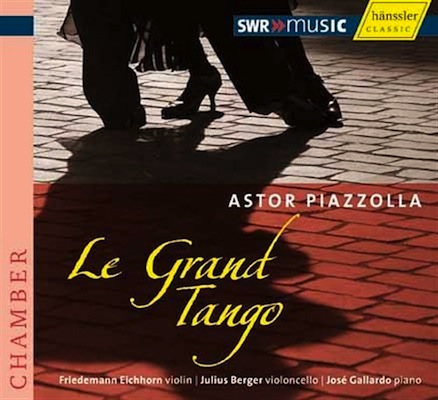 Le Grand Tango: Music of Astor Piazzolla
Recorded March 2005, SWR Funkhaus Mainz
CD SWR KLASSIK 93205 
Download (CD Quality Only)

José Gallardo, piano; Friedemann Eichhorn, violin; Julius Berger, cello; José Bragato and Osvaldo Calo, arrangers; Peter Steiber and Sabine Fallerstein, producers; Angela Öztanil, engineer.
Astor Piazzolla (1921-1992) was best known as a performer of his own modernized tango music. His instrument was an unusual concertina (button accordion) called the Bandoneón. The Bandoneón was originally designed (in Germany) as an inexpensive substitute for a church organ, providing chordal accompaniment to congregational hymn singing. That intended use dictated the inner logic of its workings. So the Bandoneon plays different notes from the same fingering, depending whether the bellows was being pushed together or pulled apart. That quirk makes Piazzolla's brilliant solo work even more impressive… .
But Piazzolla was more than an electrifying live performer; he was a serious composer. The Hungarian classical pianist Bela Wilda, who introduced Piazzolla to Bach, himself had been a student of Rachmaninoff's. Piazzolla briefly was a student of Nadia Boulanger's (she sent him on his way, though, urging him to find his own path).  Piazzolla spent five years studying orchestration with Alberto Ginistera. Piazzolla put that training to use over the rest of his life, eventually writing more than 60 film scores. That sensibility is what makes this very well recorded, infectiously listenable album a "must-buy."  Just buy it!
This carefully-crafted recital's center of gravity is an arrangement for piano, violin and cello of the piece "Oblivion," from Piazzolla's score for Marco Bellocchio's 1984 film adaption of Pirandello's tragicomedy Enrico IV, which is about a man who believes himself to be the Holy Roman Emperor Henry IV. Bellocchio's film starred Marcello Mastroianni and Claudia Cardinale. "Oblivion" is a potent cocktail of yearning, loss, and grief, reminiscent of Ennio Morricone's or Nino Rota's finest work. Piazzolla's writing has classical eloquence and elegance, showing mastery of counterpoint and voice-leading, and rhythmic subtlety.
The rest of the program is divided between the four pieces for piano, violin and cello that make up José Bragato's arrangement of Piazzolla's Vivaldi homage The Four Seasons of Buenos Aires, which is by turns energetic and melancholy; four Tangos for violin and piano; and "Le Grand Tango" for cello and piano. The last was written for Mstislav Rostropovich. Of the four Tango arrangements for violin and piano, the most famous is Piazzolla's farewell to his father "Adios Nonino," which has been covered more than 200 times.
One could not ask for better playing than offered by pianist and Buenos Aires native José Gallardo, and his colleagues the German string players violinist Friedemann Eichhorn and cellist Julius Berger. The recorded sound is excellent. This CD is immediately approachable (even for its being a bit off the beaten path), infectiously listenable, and rewarding upon repeated listenings. Audio professionals looking for new and different demonstration tracks definitely should acquire this music. Most high recommended. (All things considered, the CD-Quality download, at US$5.99, is a steal.)
Note: Even though "Oblivion" is Track 5 of the CD and the exact midpoint of the program, in view of its emotional impact I am putting it first among the sound samples.
Track 5 Enrico IV – "Oblivion"
Track 1 Las Cuatro Estaciones Porteñas – "Primavera Porteña"
Track 3 Las Cuatro Estaciones Porteñas – "Otoño Porteño"
Track 7 Four Tangos – "Adios Nonino"
Track 10 "Le Grand Tango"
# # #