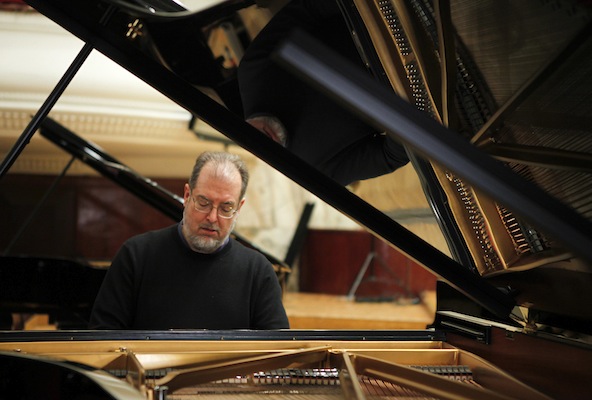 Photo REUTERS © Kacper Pempel, courtesy of Opus 3 Artists
Last Saturday night my musically-astute friend and I attend the opening concert of Maestro Larry Rachleff's final season as music director of the Rhode Island Philharmonic. Alan Rosenberg of the Providence Journal had asked me to review the concert, so the seats were, as one might expect, excellent. It was a bit of a trip in the WABAC machine (of Peabody and Mr. Sherman fame) to hear soloist Garrick Ohlsson. My high-school girlfriend thought the world of him, while I still vividly recall his Dewar's Scotch "Profiles" ad that graced the back covers of magazines such as The New Yorker and Playboy when I was in high school. An image of that ad, and more, after the jump.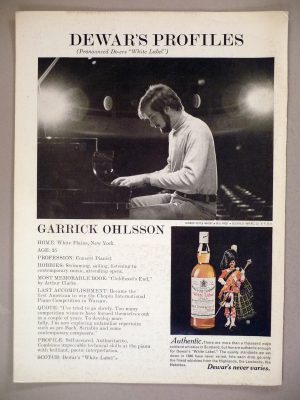 Dewar's Scotch "Profile" advertisement, circa 1973.
Ohlsson's 1970 first prize in Warsaw's Chopin competition launched his career, but only sustained musical depth can result in a career lasting more than 40 years. My complete Providence Journal concert review is here.
A couple of things to note: One, the tag "Emperor," as in "Emperor Concerto," might have been based on an event that never really happened–supposedly, a French military officer exclaimed that one theme personified Emperor Napoleon. That would have been in Vienna at some time circa 1812–France having invaded Austria four times in the previous 18 years. Therefore it is proper to assume that Beethoven himself not only had nothing to do with the name "Emperor," but in fact he would have been horrified.
The second thing to note is that I buried a puerile pun (but I repeat myself) in these paragraphs:
The concert opened with Bedrich Smetana's second-most-popular work (after "The Moldau"); the Overture from his comic opera "The Bartered Bride." A Czech patriot, Smetana wanted to compose an opera about ordinary people (rather than aristocrats); employ Czech musical idioms (rather than copy German models); and be enjoyable in a lighthearted (non-Wagnerian) way.

From the downbeat, Rachleff and the Philharmonic's exuberant, dynamic performance checked all of Smetana's boxes. Strings, winds, brass and timpani worked together beautifully in presenting the contrasts between the energetic and lilting dance themes that lead to a rousing conclusion.
(I do have to keep myself amused.)
Mr. Ohlsson has recorded all of Beethoven's 32 piano sonatas, but not this concerto. I have had no particular favorite, but I have been listening to with great enjoyment, via Steinway Streaming:
Beethoven: Piano Concertos 4 & 5 / Yevgeny Sudbin, Osmo Vänskä, Minnesota Orchestra (SACD BIS 1758).
So, young master Sudbin is not just for Scarlatti… and it's another great recording from BIS.
# # #