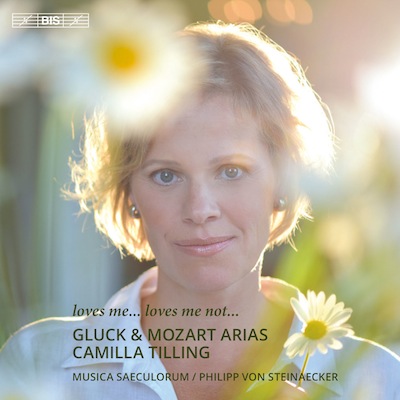 Camilla Tilling: "loves me… loves me not…"
Opera arias by Gluck and Mozart.
Musica Saeculorum,
Philipp von Steinaecker, conductor
SACD BIS-2234
Camilla Tilling grew up on a farm in a rural part of Sweden. Her parents sang in the local church choir. Hearing her parents sing with the choir when she was about six years of age, she later recalled thinking, "Well, this isn't difficult. I could do the same." There you go!
I have to confess that Ms. Tilling had not been on my radar screen before I saw a listing for her new SACD from BIS. But one can infer from the stratospheric level of her appearances over the past few years that she has a marvelous voice. From her management's website: "Fresh from performances of Mendelssohn's Elijah with the Gewandhausorchester Leipzig and Thomas Hengelbrock, Tilling has a busy concert diary ahead including returns to Teatro alla Scala for Beethoven's Missa Solemnis under Bernard Haitink, the Berliner Philharmoniker for Mahler's Symphony No.4 under Sir Simon Rattle, and the New York Philharmonic for Beethoven's Symphony No.9 under Alan Gilbert." Also: Brahms' German Requiem with Andris Nelsons (Boston Symphony), Christoph von Dohnányi (New York Philharmonic), and Bernard Haitink (Tonhalle-Orchester Zürich); Bach's Matthew Passion with Sir Simon Rattle (Berlin Philharmonic); and Bach's B-minor Mass with Philippe Jordan (Vienna Philharmonic). Whew!
More, and sound samples, after the jump.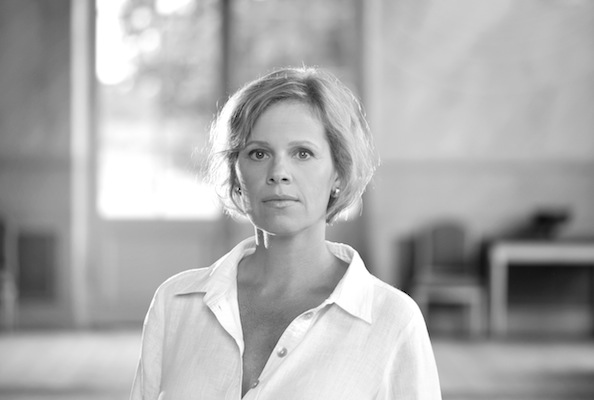 Courtesy HarrisonParrot; photo credit Maria Östlin.
The program starts with the overture to Mozart's Idomeneo, re di Creta, followed by four arias from that opera. Idomeneo was Mozart's first mature opera, premièring in 1781. The opera is set in antiquity; specifically, the period right after the Trojan War. Idomeneo seems to have been performed a number of times, and then perhaps it was overshadowed by Mozart's later works.
Or, perhaps it was the cumbersome quasi-historical opera-seria plot that made people decline to clamor for a revival. The plot includes another appearance of the tiresome twist wherein a father promises to a pagan god that, should he survive the present peril, he will sacrifice the first living being he encounters, and you can guess who that turns out to be.
Strangely enough, for the 150th anniversary of Mozart's birth, Richard Strauss re-scripted and re-composed Idomeneo. The American première of Mozart's original version had to wait for Boris Goldovsky's Tanglewood production, in 1947. The other operas represented by arias on this SACD are Gluck's Armide, Iphigénie en Tauride, and Orfeo ed Euridice; and Mozart's Così fan tutte and Le Nozze di Figaro.
The Idomeneo overture lets you know, in the event you had missed that data point, that Musica Saeculorum is an original-instruments outfit, playing period-correct instruments at the period-correct pitch of A = 432Hz. I think that those are both good choices that show off Ms. Tilling's lovely voice to best effect. The lighter textures of period instruments provide more transparency and allow for more agility, and the period-correct pitch lets the vocal lines to develop and project with no strain. The orchestral playing is a delight to hear and the recorded sound is up to BIS' very high standard.
Ms. Tilling's voice is what I think of as the "Girl Next Door" type. (That is, "Girl Next Door" if you happen to live next-door to the Royal College of Music… .) Her right-sized (rather than out-sized) voice is clear without being brittle; there's a warmth, but it does not slow things down. However, when her innate musicality tells her to linger over phrases, her secure technique enables her to do so. I was particularly impressed with her pensive, inward-looking "Per pietà, ben mio, perdona" from Così fan tutte.
Listen, and decide for yourself. And don't be shy—leave a comment!
Mozart, Idomeneo, K. 366; Act III; "Solitudini amiche, aure amorose"
Mozart, Così fan tutte, K. 588; Act II; "Per pieta, ben mio, perdona"
Gluck, Orfeo ed Eurydice; Act III; "Qual vita è questa mai" (ending)

Gluck, Iphigénie en Tauride, Act II; "O malheureuse Iphigénie"

SACD fans: here's another opportunity to vote with your wallets. For everyone else, this beautiful music is available on Tidal, and 24/96 downloads can be had from HDTracks. Highly recommended.
# # #