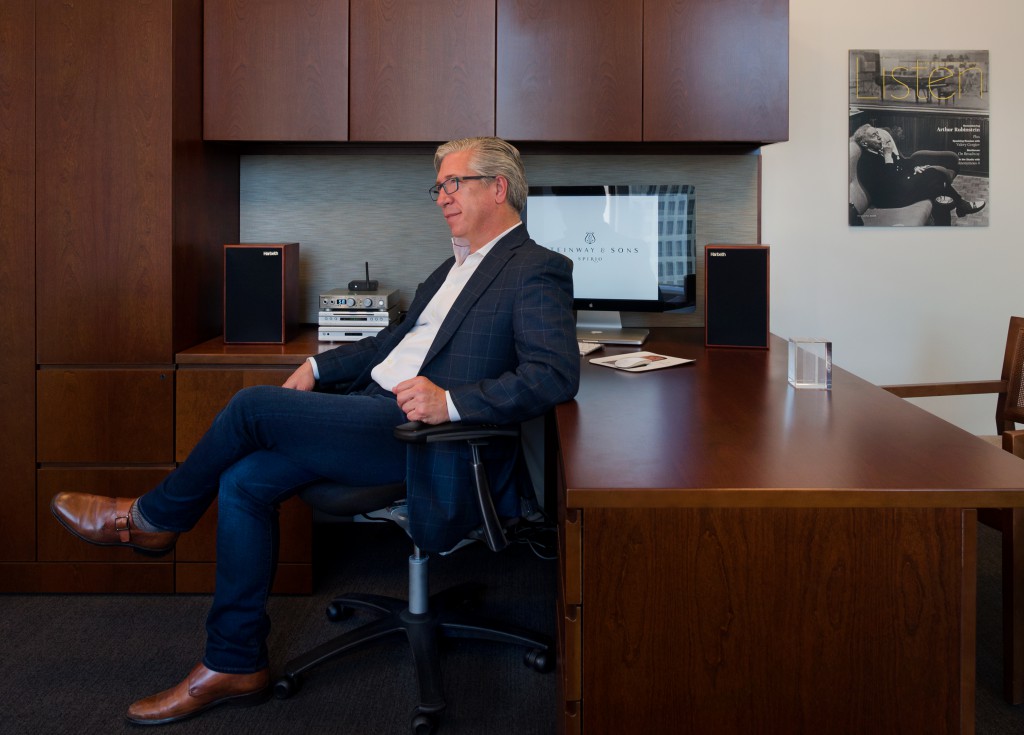 (Photo of Eric Feidner at Steinway & Sons' NYC Global headquarters by and courtesy of Wes Bender Studios.
I totally love the way Eric's and Mr. Rubinstein's legs are the mirror images of each other!
Way to go, Wes! And, what an amazingly clean desk Eric has!)
I derive immense pleasure from setting people up with (relatively) affordable stereo systems that work as systems, and are not just a bunch of random components selected from "Best-Of" lists. An early effort in that line was the series of columns I wrote for The Absolute Sound magazine entitled "A Stereo for Mr. Stevens." Mr. Stevens being Wallace Stevens, because music and sound were such important parts of his poetry. I had no evidence that Wallace Stevens (who died in 1955) was an early adopter of hi-fi; but, I wasn't about to let that stop me.
As the test track for the Stereo for Mr. Stevens, I chose the opening of the first movement of Brahms' Ein deutsches Requiem. Specifically, from the Robert Shaw/Atlanta CD from Telarc. Because of its thrilling bass extension. That Telarc recording has withstood the test of time. However, if I had to choose only one interpretation as my Desert Island recording (as patchy as the sound is), it would be Sergiu Celibidache, Cologne 1957 (mono CD from Myto). That is the only recording I have ever heard that makes obvious Brahms' conscious debt to Heinrich Schütz.
Obviously, for a work with full orchestra, pipe organ, and chorus, you need loudspeakers that are nearly full-range, an amplifier that is capable of driving them, and a reputable source. The Stereo for Mr. Stevens ended up consisting of Shahinian Acoustics' Obelisk loudspeakers (now offered in a v.2), powered by Plinius' 8150 integrated amplifier, fed by Enlightened Audio Designs' Ultradisc CD player. Which was all fine and good in its day; but that was 18 years ago. Fast forward to today.
I was thrilled when Eric Feidner (Steinway & Sons' SVP for Music, Technology and Media; and, Executive Producer of Steinway & Sons Recordings), asked me to specify desktop/computer-audio systems for him, and for Mike Sweeney, Steinway's President.
Horses for courses, this was a challenge different from A Stereo for Mr. Stevens.
Because these were to be "desktop" systems with the loudspeakers within arm's reach (rather than across the room), in specifying the systems I aimed to "bite off less, but chew as carefully" compared to before. It was obvious to me that the most "natural" loudspeaker to meet this need would be a descendant of the BBC's 1970s "outside broadcast" monitor speaker, the LS3/5A. The LS3/5A was designed primarily as a monitor for use in vans set up as mobile recording or broadcast studios. So, the LS3/5A is, in some sense, the progenitor of all desktop loudspeakers.
For my take on the history of the LS3/5A, click here.
Having had experience with a few LS3/5A descendants, I had absolute confidence in Harbeth UK's "evolutionary" tribute, the Harbeth P3ESR. Harbeth's P3ESR is a not a reproduction or a continuation of a mid-1970s design. Instead, it is a fresh take, using modern technology, but in the spirit of "listenability and musicality first."
The P3ESR's sound is engaging, naturally coherent, and very fatigue-free.
The P3ESR is about 12 inches tall and 7 x 8 inches wide and deep. I love that the P3ESR is still made in the UK, and I love that the cabinetry is real wood. Eric's pair is in Rosewood. Other available veneers include cherry, black ash, and eucalyptus.
United States MSRPs are $2095 for cherry, $2195 for rosewood, and $2295 for eucalyptus or black ash.
Harbeth's P3ESR is expensive, compared to most loudspeakers its size. However, I am absolutely certain that here we have a case of, buying something once, and buying it really right.

Information here.
The other components in the office systems for Steinway & Son's headquarters will be written about very soon!
# # #