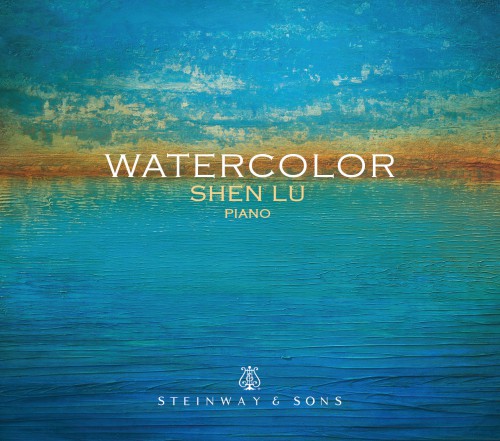 Shen Lu, Watercolor
Steinway & Sons CD 30039
I am very persnickety about piano recordings. Many piano recordings manage to leave me rather cold–both from a performance standpoint, and usually also from the sonic standpoint. Some of that I can trace to the facts that my early musical experiences were playing violin in student orchestras, and singing in school choruses.
Shaping a musical line and shading dynamics are existentially important in music. But the piano is unavoidably a percussion instrument.
Piano dynamics are a one-way street. Once you hit a note, it will die out as it will—there is no way to swell the sound once a note has started sounding on the piano. Whereas swelling a note is part of a singer's stock in trade, and a violinist's too.
Boris Goldovsky had a disproportionate impact upon me, compared to the brief time I was able to spend with him. Mr. Goldovsky was almost certainly the person who did more than anyone else to popularize opera in America from mid-20th century on. From 1946 though the mid-1980s, Mr. Goldovsky's musical and dramatic analyses of operas were an intermission feature of Texaco's Saturday-afternoon live Metropolitan Opera broadcasts.
The relevance being that Mr. Goldovsky's pet term for non-musical pianists was, "key-punch operators." It being, I think, very relevant that Mr. Goldovsky himself was a student of Artur Schnabel's. (As well as later being a conducting student of Fritz Reiner's; and then, Reiner's assistant.)
My favorite pianists are those who seem to be able to defy the physical limitations of the piano to create the illusion that a musical line is being sung. "Thunderers" leave me cold.
My list of favorite pianists starts with Moravec, then Michelangeli, then Rubinstein, then Emanuel Ax. (Ax, no surprise, was first-prize winner at the first Arthur Rubinstein International Piano Master Competition.) I also have a soft spot for Maria João Pires. (Note: Rubinstein, as a child in Poland, was called "Artur;" but, in English-speaking countries, he preferred to be called "Arthur," which is the style on his famous RCA recordings.)
But there are also any number of pianists, ones who don't often appear on today's radar screens, whose recordings can enchant me. To take one such pianist at random: Harriet Cohen. Click here for Miss Cohen, playing her Bach "Liebster Jesu" transcription. Bliss.
Shen Lu is a native of Jiangsu, China who now is pursuing his Artist Diploma at the Cleveland Institute of Music. His previous studies were at the New England Conservatory and Beijing's Central Conservatory of Music. Mr. Shen has won a slew of various awards at various competitions all over the place. One of those awards entailed making a recording for Steinway & Sons. So here we are, discussing Watercolor. (Steinway & Sons CD 30039; 24/96 download from Pro Studio Masters.)
The good news is that Shen Lu does not "play like a competition winner." Mr. Shen plays like a mature artist who understands the music and whose technique is effortless. His formidable technique calls attention to itself only when musically appropriate.
Watercolor is a recital that bookends familiar masterpieces of 20th-century Western piano music (Ravel's Miroirs, and Rachmaninoff's Op. 33 Etudes Tableaux) with piano music by Chinese composers Chen Peixun and Tan Dun. The first piece, Chen Peixun's Impressionistic "Autumn Moon on a Calm Lake," was not familiar to me, but the fluidity of Shen Lu's passagework and trills was very impressive.
Entering into the more familiar territory of Ravel's Miroirs, it did not take me long to conclude that there was an awful lot of Walter Gieseking's approach in Shen's Ravel. For many listeners, Gieseking's 1950s EMI recordings are the gold standard in Ravel, so, that is by no means a bad thing.
However, it is in Rachmaninoff's Etudes Tableaux that Shen shines most brightly, I think—in particular, No. 3 in C minor. There is a plangent quality to the slow upper-octave melody in the middle section that most of today's hot-rodding young pianists don't seem to be able to convey. That entire track is up on YouTube (audio only), courtesy of distributor Naxos.
I must take a moment to praise the recorded sound, courtesy of Virginia's Sono Luminous studio, which records in a church from the early 1900s. New York Steinway D grand piano, of course; and it is in a very enviable state of setup and tune. I have heard many of Steinway's CD releases these past few years. For me, in terms of sonics, the "picks of the litter" are Alan Feinberg's Basically Bull, and Shen Lu's Watercolor. Both were recorded at Sono Luminous, by Daniel Shores. Bravo.
Watercolor is one of the most exceptional solo-piano recordings of the past several years.
Just buy the CD, or download the hi-res.
# # #