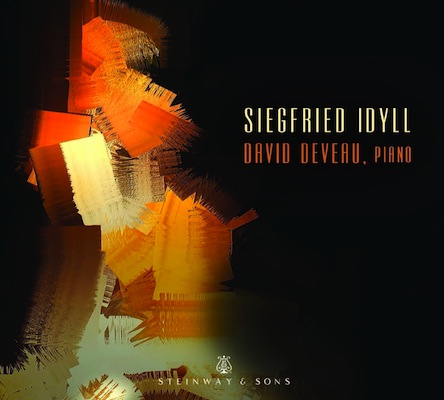 David Deveau: Siegfried Idyll
Piano music of Liszt, Wagner, and Brahms
Steinway & Sons CD 30051
This completely musical and unusually thoughtful recital program by David Deveau is not only a feast of pianistic tonal beauty and artistic phrasing. For my always-increasingly-meager shekels, of all the recent Steinway & Sons CD solo-piano releases, this is the one that most closely approximates my ideal of what a great piano recording should sound like.
So, audiophiles: please vote with your wallets by buying this CD!
Words about the performer, the program, and the recording venue (followed by some generous sound bites), all await you after the jump. Clickez-vous, s-v-p!
David Deveau is one of the many truly great pianists of today who are usually under the radar screens of the cognoscenti; so, all praise and honors to Steinway and Sons for giving him such an impressive major-label debut!
David Deveau serves on the music faculty of the Massachusetts Institute of Technology (MIT), and if you had not known before, math and music often go together. The liner notes for this CD are by the artist, and are very very good! As far as I can tell, David (we are old friends) has played everywhere except the South Pole. He is artistic director of the Rockport Chamber Music Festival in Massachusetts; their stunning Shalin Liu Performance Center was the recording venue.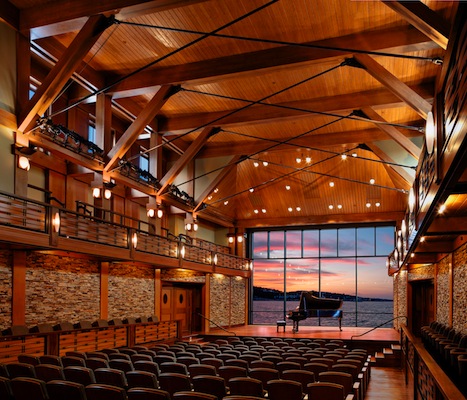 (Photo credit Robert Benson Photography)
A thought-provoking program, this certainly is!
The 1800s were not only a time of political and artistic ferment; there was a whole lot of bad lovin' goin' on.
The most charismatic performer of the day (after violin whiz Niccolò Paganini), was piano whiz Franz Liszt. Liszt's only daughter Cosima married Liszt's star student Hans von Bülow; and no slouch he. Von Bülow, not Liszt. But you already knew that. If that surname strikes a bell, you may be remembering Danish socialite Claus von Bülow, who twice stood trial in Rhode Island for the attempted murder of his wife Sunny. The juvenile-fiction author whose nom de plume is Lemony Snicket appropriated the names Sunny and (perhaps for legal reasons) Klaus for two of the Baudelaire children in the series A Series of Unfortunate Events.
Poor Hans conducted the premières of both Wagner's Tristan and Isolde, and of Die Meistersinger von Nürnberg. And I am sure he did not sight-read either of those scores… .
Malfortunately-like (as we would say in the South) Wagner paid von Bülow back in Wagner's customary coin, by stealing von Bülow's wife. I have written about that aspect of Wagner's character before. Liszt, as they say up at Harvard, was unsmiling.
Liszt's daughter Cosima gave birth to Wagner's only son, Siegfried. ("Cosima" is also the name that the non-fictional Claus gave to his daughter with Sunny von Bülow.) Wagner composed a serenade, the Siegfried Idyll for 13 musicians, to be played as a birthday surprise for Cosima.
One of Wagner's musical assistants, a poor lost soul named Josef Rubinstein (no relation to anyone famous) made several versions, including the solo-piano transcription heard on this CD. It is remarkable for its musical clarity, but, as importantly, it is neither the first not last piece on the program. The first piece is Liszt's Funérailles, for the revolutionaries killed in 1848. That, in a sense, creates a link between future involuntary father-in-law and second son-in-law.
Liszt obviously was annoyed that this parvenu of dubious talent had seduced his daughter away from her duly-wedded good guy. But reconciliation eventually took place (perhaps aided by the grandchild). The program ends with Liszt's "At the Grave of Richard Wagner" (1883), which, while quoting Wagner's last completed opera Parsifal, veers off in the direction of atonality and toward the sense of (or dread of) cosmic emptiness that appears in Mahler's last symphonies.
Between the bookending Liszt pieces there is the substantial (nearly 20 minutes) Josef Rubinstein Siegfried Idyll transcription and seven Brahms late piano pieces, including a lovely Op. 118 No. 2 that is cut from the same bolt of cloth as Ivan Moravec's famed reading. Although in some details, Moravec might be a little more wistfully pensive or regretful than Deveau's serene performance.
I hear so many horror stories about performance spaces and churches that end up with substandard acoustics that it is a pure joy to learn of a new performance space that is what my friend Mike Sheehan the Ferrari expert would call a "no stories, no excuses" recital hall. I am so knocked out by the daring concept, which was to recreate a waterfront Victorian building that pays tribute to the local built environment, and build the recital hall inside. (The glass wall at the rear of the stage can be covered by wooden acoustical panels as needed.)
That is the classic "room within a room" approach to critical-playback room design. But the design team was sufficiently humble and pragmatic to stick with the tried-and-true "shoebox" floor plan. When I see an architect draw a concert hall with a floor plan that looks like the body of a cello, I can't help but think "Legend in Own Mind."
Judging by this recording, the results are fabulous. But if you know anything about concert halls, one look at the above image should have you nodding with approval. Recognition is due first to the generous donor Shalin Liu, who gave the $3 million keystone gift; to architect Alan Joslin and his partner interior designer Deborah Epstein; to acoustician Lawrence Kirkegaard; and to all the craftspeople. Well done.
On to the music!
2 Wagner/Rubinstein Siegfried Idyll
5 Brahms Intermezzo In E-Flat Major, Op 117 No 1
7 Brahms Intermezzo In A Major, Op 118 No 2
11 Liszt "Am Grabe Richard Wagners," S 202
Audiophiles, piano mavens, and just plain music lovers, here's that link.
# # #