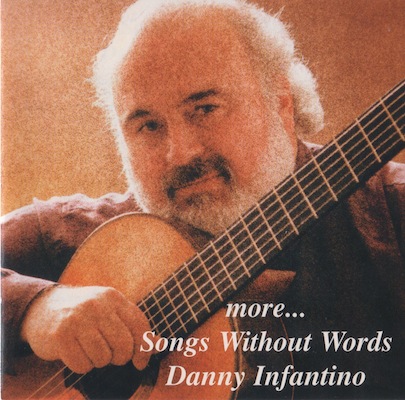 Danny Infantino: More… Songs Without Words
CD Duns Scotus Recordings 002 (recorded 1995)
(No high-resolution download available, apparently.)
Danny Infantino, solo classical guitar and producer; Wes Lachot, engineer; Brent Lambert, mastering.
I got in touch years ago with Danny Infantino when I saw his company name (Duns Scotus) listed in some independent-music publication–perhaps something from the AFIM. I got a kick out of the idea that someone would name an independent record label after one of the pre-Scholastic Medieval theologians. He sent me his CDs and I was very very impressed. Years later, Stereophile's John Atkinson visited me and I played some of Danny's music for him. JA, upon his return to New York, ordered the CDs directly from the artist.
This CD is a reminder, in the same way the David Nadien Swan Lake concertmaster-solo video was, that there is a shockingly weak linkage between musical quality and career and marketplace success. Danny's technique is surpassed only by his musicianship. So, not much more to say than, click on the jump link, listen to the sound samples, and order this CD! More… Songs Without Words is available from eBay, from third-party sellers on Amazon, and directly from the artist. Just buy it.
Sound samples:
2 Black Is The Color of My True Love's Hair
4 Drink With Me (From "Les Miserables")
5 Bring Him Home (From "Les Miserables")
# # #