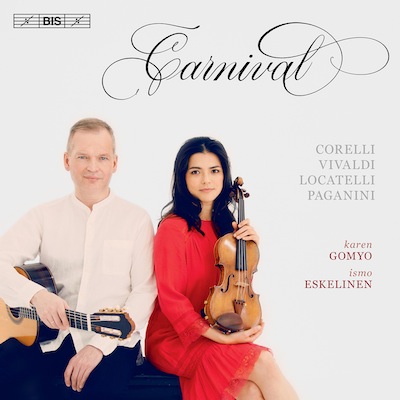 Karen Gomyo and Ismo Eskelinen: Carnival
Music for violin and guitar of Corelli, Vivaldi, Locatelli, and Paganini.
SACD (BIS 1998) and MP3 downloads available from Amazon
Hi-Res downloads (24-bit/96kHz stereo AIFF, ALAC, FLAC, and WAV) available from e-classical and  HDTracks
Streaming available from Tidal (and others)
Release date: November 1, 2019

Recorded September 2015 at Troy Savings Bank Music Hall, New York. Producer and recording engineer: Hans Kipfer (Take5 Music Production). Violin by Antonio Stradivari, the 'Aurora' (1703); bow by François Tourte (c. 1810); Guitar by Gabriele Lodi (2011). Total time 67 min. 30 sec.

It used to be that only hard-core violin nerds were aware that legendary violinist Niccolò Paganini (1782-1840) played the classical guitar, or that he also composed a substantial body of works for that instrument. Superb recordings such as this one can only increase recognition of that intriguing fact.
This recording places works by Paganini (and a selection of his "Carnival of Venice" variations, with the addition of a new variation by Miss Gomyo) in the context of earlier works by Paganini's violinist/composer predecessors Corelli, Vivaldi, and Locatelli, who were born in 1653, 1678, and 1695, respectively.
For the earlier Baroque sonatas, the guitarist on this recording, Ismo Eskelinen, created guitar parts from the original basso-continuo parts. But even in the Baroque era, the guitar's predecessor the lute was a continuo instrument as well as a solo instrument (and also the instrument in the duo genre known as the "lute song").
For those of us who remember the dawn of the CD medium (I was the founding classical-music columnist of Digital Audio magazine, which was later rebranded as CD Review), mention of the recording venue for this recording should bring a flood of warm memories. The venue for this project was Troy, New York's Troy Savings Bank Music Hall, which was for many years where Dorian Recordings did most of their work. More information, and sound bytes, after the jump.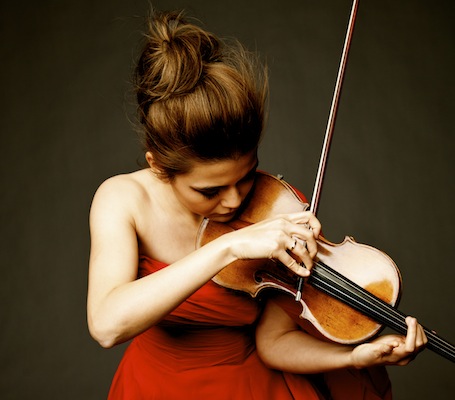 The Troy Music Hall is a Gilded-Age wonder with a main ceiling height of 61 feet, as against a width of 69 feet and a length of 106 feet. Therefore, the Hall is a classic "narrow shoebox/high ceiling" design with a floor plan that is very near to the Golden Ratio, and with a seating capacity of (only) circa 1,200. Back in the day, Vieuxtemps, Paderewski, and Rachmaninoff played there… . Needless to say, the sound of this SACD (recorded in stereo/MCH 24/96 PCM) is exemplary.
The musicians here play with great facility and fluidity, but even more importantly, with taste, and with a sense of period style. Not incidentally, to coin a phrase, in this program, guitarist Ismo Eskelinen is (at times) a more-than-equal partner. Paganini wrote some of this music so that the guitar is the solo instrument, while the violin plays an accompaniment. The "Romance" movement of Paganini's Grand Sonata in A major is a wonderful little gem of chamber music, both charming and wistful. (An excerpt is the last sound sample.) By the way, Eskelinen's guitar is by luthier Gabriele Lodi of Carpi, Italy, which is not that far from Stradivari's home town of Cremona. What a luscious-sounding instrument! (And what a great engineering job!)
Not to neglect Miss Gomyo. Back when I was a violin student, I was puzzled when my teacher, who had known Fritz Kreisler, characterized Kreisler's style as "lacy," as in, resembling or consisting of lace, which is an openwork figured fabric. I was puzzled back then; but I had a bit of a revelation while listing to Miss Gomyo's Corelli "La Follia" sonata: one possible connotation (or evocation) of "lacy" is that the ornamentation and the structure are one and the same. Miss Gomyo plays with a rather astonishing degree of technical competence (her Caprice 24 and Carnival of Venice are, as I said, rather astonishing), and a lovely tonal palette.
About that Corelli sonata. It is based on the musical theme known as "The Follies of Spain" (but which might very well have had its origin in a Portuguese peasant dance of the late Middle Ages or the early Renaissance). More than 150 composers have used the theme.
Fritz Kreisler's "Variations on a Theme of Corelli (in the Style of Tartini)" has been featured in violin recitals the world over since the early years of the 20th century. Kreisler's Corelli Variations (which in all likelihood had little to do with Tartini; Kreisler just enjoyed spoofing people by attributing his compositions to venerable composers of the past) is a favorite track from Arturo Delmoni's evergreen recital album Songs My Mother Taught Me. Which continues to sell for crazy money on eBay, at least in its LP releases.
That said, I think that the most familiar use of the "La Folía" theme has been the orchestration of the Sarabande movement from Handel's D-minor keyboard suite (HWV 437) that Stanley Kubrick commissioned for use as the Main Title music of his under-rated masterpiece Barry Lyndon. If you are among the many who have never seen this gem, here are the Main Title sequence, Intermission, Epilogue, and closing credits:
Well, the Lord Chancellor of Great Britain once rebuked a verbose advocate with the words "Thirsty folk want beer, not explanations." So, here is some music.
1. Track 15: Arcangelo Corelli: Sonata No. 12 in D minor, "La Follia," Theme (Adagio)


2. Track 16: Arcangelo Corelli: Sonata No. 12 in D minor, "La Follia," Variation 1


3. Track 17: Arcangelo Corelli: Sonata No. 12 in D minor, "La Follia," Variation 2 (Allegro)


4. Track 18: Arcangelo Corelli: Sonata No. 12 in D minor, "La Follia," Variation 6


5. Track 19: Arcangelo Corelli: Sonata No. 12 in D minor, "La Follia," Variation 8 (Adagio)


6. Track 14: Niccolò Paganini: "Variazioni di bravura" for violin and guitar on Caprice No. 24 (excerpt)


7. Track 34: Niccolò Paganini: Grand Sonata in A Major; II. Romanze; Più tosto largo. Amorosamente. (excerpt)

For all music lovers: Highest recommendation. For SACD fans: It is time again to vote with your wallets. For Music Librarians: Well worth acquiring.
# # #