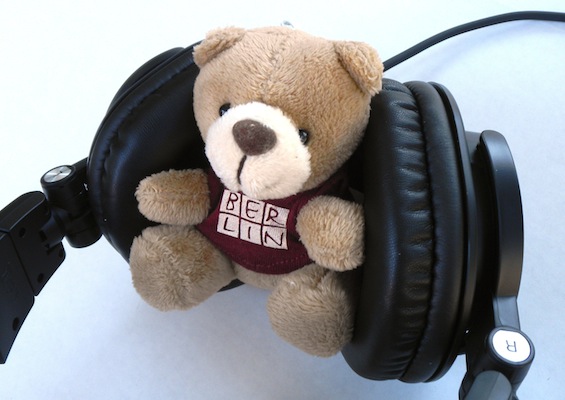 Berlin the Bear says, "Body-Shaking Bass!!!"
This is the sixth (and final) installment in my series about choosing Pareto-Optimal equipment to make archival digital copies of vinyl LP (long-playing) phonograph records. The first part (an overview) is here. Part 2 (Rega's Planar 3 turntable package) is here. Part 3 (Graham Slee's Revelation M phono stage) is here. Part 4 (a USB computer interface to handle analog-to-digital conversion) is here. Part 5 (software to make and edit a digital transfer of an analog LP) is here. This installment is about choosing headphones and monitoring loudspeakers for digitizing legacy media formats.
In much the same way that one cannot go wrong buying paint from Benjamin Moore (there probably are "better" paints; but, for most people and most uses, Benjamin Moore is the Pareto-Optimal choice), one cannot go wrong buying Audio-Technica's ATH-M50x headphones. Their virtues include (as far as I know) class-leading sound in their very affordable price tier (in Basic Black, $149 with free shipping from B&H Photo); closed-back earcup design for two-way sound isolation; comfort; and robust construction.
Part of my calculus is that for the limited purposes of ripping and editing an LP, headphones (or monitoring loudspeakers) that are good enough, will be good enough. For an elaboration of that, and other headphone options and loudspeaker options, please click on the jump link. Continue Reading →