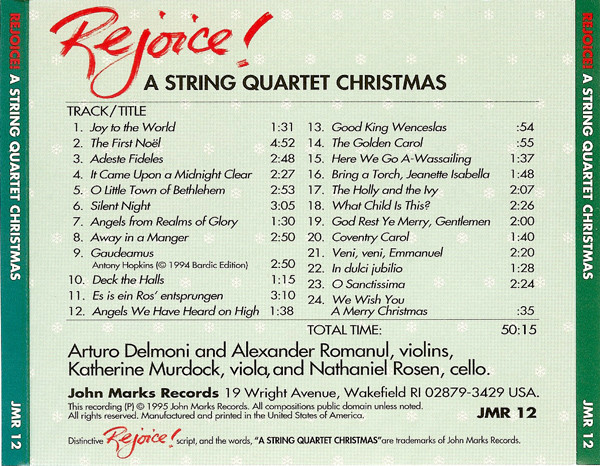 (The copyright date is 1995, despite the release date having been late 1994.)
Last week marked Arturo Delmoni's 70th birthday. We met in 1980 through mutual friends, during the summer music festival at Rhode Island College. At the time, I was both a budding audiophile (the term was not much in use back then) and also, since my junior-high-school days, an audio-video nerd. Years before, an uncle had given me an open-reel tape recorder he was no longer using. I recorded my junior-high-school chorus in lamentable stuff such as, "If We Could Talk to the Animals" from Doctor Doolittle. (That was a 1967 film that Rex Harrison most likely did not have to live very long after, in order to regret muchly. Sigh.)
Customers of my parents' delicatessen-café included the couple who ran the independent record label SQN (or Sine Qua Non). I chatted them up about their possibly releasing a recording to be funded and owned by Arturo Delmoni and licensed to them. The one good thing that SQN did for me (well, over and above giving me an "education" in how the music business really works) was to introduce me to engineer David Hancock.
The SQN folks recommended David Hancock because he had not yet invested in the latest digital-recording technology, and therefore his rates were lower than those of the top guys. David had invested, however, in a spanking-new Studer A80 analog tape machine, set up to use half-inch two-track analog tape running at 30 inches per second. Whew.
Now, class, a "thought experiment."
How many people today would pay over $300 for a sealed-copy LP of Songs My Mother Taught Me, if it had been recorded using early-generation digital technology??? (It is said, that to state some propositions is to refute them.) David Hancock was also a fan of Charles Fisher's C35 Cambridge microphones, which were, in essence, improved RCA model 44 ribbon microphones with an active proximity-effect-compensation circuit. Those were the microphones David had used on his legendary 1967 recording of Donald Johanos and the Dallas Symphony in Rachmaninoff's Symphonic Dances.