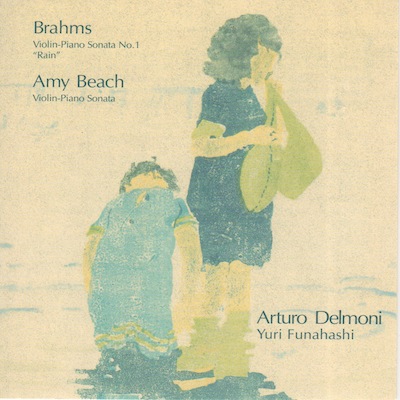 Tuesday, September 5, 2017 is the 150th anniversary of the birth of Amy Marcy Cheney Beach (September 5, 1867 – December 27, 1944). To quote Wiki: "She was the first successful American female composer of large-scale art music, breaking a glass ceiling when her 'Gaelic' Symphony was performed by the Boston Symphony Orchestra in 1896."
Arturo Delmoni asked me to upload not just sound bites but instead his and Yuri Funahashi's entire recorded performance (from CD JMR 2, which a third-party seller on Amazon would like you to pay $1,526.83 for a new copy of—but there is a bottom-feeding underbidder asking only $166.99; such are the values of my back catalog on the crazy collector market).
After the jump there are: a photo of Mrs. H.H.A. Beach (as she wished to be known); m4a embeds of all four movements of her Sonata in A minor, Op. 34; and the relevant section of my liner-note essay.
Happy Birthday, Mrs. Beach!