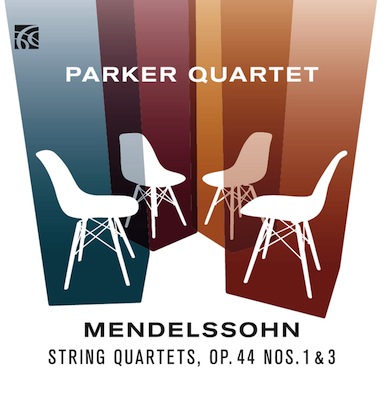 The Parker String Quartet: Felix Mendelssohn, Opus 44 String Quartets 1 & 3
CD Nimbus NI6327
(No high-resolution download available at present, apparently.)
Except for his few "Greatest Hits" (those being the "Wedding March" from A Midsummer Night's Dream; the Violin Concerto; and the Italian Symphony), I think that Felix Mendelssohn is an often-overlooked or often-underrated composer. Further, given the rarely-equaled felicity (I should be re-programmed) of his solo-piano music, perhaps then it is not surprising that Mendelssohn's string quartets remain, for many music lovers, undiscovered gems.
The Boston-based Parker Quartet has a name that is new to me, but, it should not have been. Their recording of Ligeti's first and second quartets received the 2011 Grammy award for Best Chamber Music Performance, and they are the Blodgett Artists in Residence of Harvard University's Department Of Music. UK's legendary Nimbus imprint has just released the Parker Quartet's CD of two of Mendelssohn's Op. 44 quartets, the first and third. What lovely music making! (I also love that the cover image is of four of Charles and Ray Eames' fiberglass "scoop" chairs, which are icons of Mid-Century Modern design.)
More, and sound samples, after the jump.